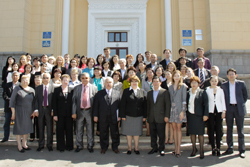 The institute of economy of Committee of science of the Ministry of Education and Science of the Republic of Kazakhstan as the center of basic researches in Kazakhstan, forms potential and defines the status of economic science in the country.
The structure of Institute is flexible and subordinated to priorities of researches in economic science and to strategic problems of development of economy and society in Kazakhstan. In particular, in 2010 according to new requirements of world and domestic economic development the new structure focused on research of problems of competitiveness, innovations, developments of the human capital is developed.
Today in structure of Institute of 7 centers, information and implementation sector. The institute has the branch in Astana – the Center of social and economic researches. Since 1968 operates Kazakhstan's first doctoral dissertation council on economic profile.
Closely cooperated with foreign research establishments and scientists. Participates in the international scientific projects and researches. For example, cooperating with the Economic and Social Commission for Asia and the Pacific (ESCAP), Bangkok (Thailand), the International Project on Capacity Building in Central Asia for the planning, monitoring and evaluation of programs to ensure income and employment opportunities for local and regional levels.
In 2012-2014 is supposed develop a new program of basic research in the framework of the Strategic Plan of the Institute until 2020.
The main activities of the Institute are:
Neo industrial model of development.
The development of social economy.
The capitalization of the human factor.
Financial and investment policy.
Problems of reforming the world monetary and financial system.
Problems of management of the economy of Kazakhstan.
Increasing the competitiveness of the real sector.
Antimonopoly regulation and development of a competitive environment.
Overcoming the global economic risks and threats.
Regularities and principles of territorial development.
The structural and technological modernization of the economy.
The integration of Kazakhstan into the global technological space.
The problems of cluster development.
The evolution of property relations.
The development of the state and private business.
Institutional development and economic pragmatism.
Rent relations.
The development of local self-government.
Institute of Economics was founded in 1952 in the Academy of Sciences. At this moment there was a requirement of research of fundamental economic problems and scientific justification of prospects of development of Kazakhstan. Creation of Institute promoted formation in the republic of the large scientific directions and the academic schools on fundamental problems macro – and regional economy, economy of branches of economy, transformation of relations of production and social and economic bases of level and a way of life of the population.
The Institute has a high scientific potential, has a well-developed material and technical base. By the number of researchers with advanced degrees, takes a leading place in the country among research institutes and universities.