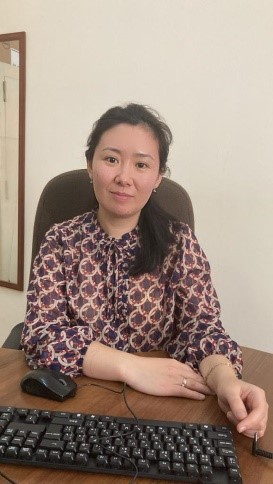 Kangalakova Dana Muratbekovna
Head of the Department of Social Problems and Human Capital
PhD
Scopus ID: H-index=2 (57194270697)
ORCID:  0000-0001-8388-8559
Member of the Editorial Board of the journal «Economics: Strategy and Practice»
Member of Council of Young Scientists of the Institute of Economics of SC MSHE RK
Awards and Scholarships:
Scholarship holder of the nominal scholarship of Academician T.A.Ashimbayev, IE SC of the Ministry of Education and Science of the Republic of Kazakhstan (2017);
The «Best Paper Award» from the Korea Distribution Science Association (KODISA, Seoul, South Korea, 2023).
PARTICIPATION IN RESEARCH PROJECTS:
1) Supervisor: "Intellectual potential of the regions of the Republic of Kazakhstan: assessment and development prospects" (IRN AP08052800, 2020-2022).
2) Executor: "Development of the innovation system of Kazakhstan in the conditions of the formation of a knowledge-based economy: institutions and mechanisms" (2015-2017); "Kazakhstan's path to a knowledge-based economy based on the third technological modernization: strategy, models and mechanisms of development" (2018-2020); "Development of the concept and mechanisms of balanced territorial development of the economy and society of Kazakhstan" (2021-2022); "Study of factors, features and dynamics of demographic processes, migration, urbanization in Kazakhstan, development of digital maps and forecasts" (2021-2023).; "Priorities and mechanisms to overcome unequal access of rural women of Kazakhstan to resources" (2022-2024).
Research interests: research on the problems of economics, human capital, intellectual potential, regional economy, digital economy, gender economy, innovation and entrepreneurship.
DEPARTMENT EMPLOYEES:
Chulanova Z. K. – Leading Researcher, c.e.s.,
Meldakhanova M. K. – Chief Researcher, d.e.s.
Gaisina S. N. – Chief Researcher, d.e.s.
Omir A. – Researcher
Dzhumashev N. M. – Researcher, PhD student
Dzhanigizova A. – PhD student