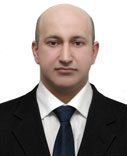 Osmanov Zhasym Dzhafarovich
Head of the Center for Applied Research
PhD in Economics
Scopus ID: H-index=1 (57206737774)
РИНЦ: H-index = 3 (1038104)
ORCID:  0000-0002-5225-0365
Member of the Association of the Eurasian Economic Club of Scientists; Professor of the Russian Academy of Natural Sciences (RAE); academician of the International Academy of Informatization (MAIN); member of the Assembly of Peoples of Kazakhstan (APK).
From 2004 to the present at the Institute of Economics of the KN of the Ministry of Education and Science of the Republic of Kazakhstan, Director of the Center for Applied Research, a leading researcher.
Research interests: oil and gas industry; economy; agro-industrial complex.
Participation in projects:
2003-2005 – "Financial mechanism of state regulation of the economy of Kazakhstan in the context of globalization";
2006-2008 – "Financial support for modernization and dynamic development of the economy of Kazakhstan";
2009-2011 – "Balanced development of the financial and credit system as a factor of growth of competitiveness of the economy of the Republic of Kazakhstan in the conditions of global financial instability: strategy and mechanisms".
2012-2014 – "Development of ways to solve the problem of balancing the extractive and processing sectors in the oil and gas complex of the Republic of Kazakhstan"
2014 – "Priorities of gender policy in the framework of the new political course "Kazakhstan – 2050".
2015-2017 – "Structural transformations of the Caspian oil and gas region in order to increase industry efficiency and energy security".
2015-2017 – "Integration effects of cooperation in the Eurasian Economic Union".
2018-2020 – "Diversification and growth of high-tech exports of Kazakhstan: mechanisms and priorities"
Department employees:
Adilkhanov O. – researcher
Turysbekova A.- researcher
Imangali Zh. – researcher